It has been over a year since the Emergency Decree on Digital Asset Business Operation B.E. 2561 (2018) of Thailand ("DA Law") came into force on 14th May 2019.  Since then several implementation rules have been issued by the Ministry of Finance ("MOF"), the Securities and Exchange Commission Thailand ("SEC") and the SEC Office.  This article outlines what have happened in relation to the implementation and practice of the Thailand's DA Law from May 2018 to July 2019.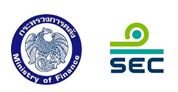 1.   Cryptocurrencies Allowed for Transactions
On 11th September 2018, the SEC Office announced a list of 7 cryptocurrencies allowed for ICO investments and transactions and base trading pairs consisting of Bitcoin, Bitcoin Cash, Ethereum, Ethereum Classic, Litecoin, Ripple and Stellar.  However, the SEC did not recognize or certify these cryptocurrencies as a legal tender.  Six months later, the SEC removed Bitcoin Cash, Ethereum Classic and Litecoin from the list.

2.   Digital Asset Business Licenses
As of 18th July 2019, the MOF has issued 7 licenses to 5 operators as follows:-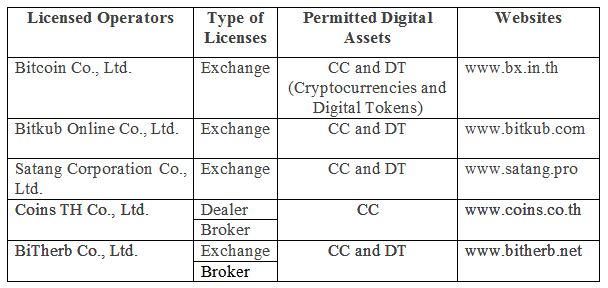 The MOF rejected some applications for digital asset business licenses because their major operating systems, such as asset custody system, KYC system, IT security and cyber security system, failed to meet the SEC and the Anti-Money Laundering Office ("AMLO") requirements.
3.   Initial Coin Offering ("ICO") and ICO Portals
A large number of companies have expressed interest in launching their ICO projects to raise funds under the DA Law.  However, none of the ICO projects could be launched because no ICO portal has been in operation.  Launching an ICO needs an ICO portal to conduct a due diligence on the project, review and verify the whitepaper and the smart contract source codes and to do several other things.  An ICO can be offered only through the platform of an ICO portal licensed by the SEC.
In July 2019, the SEC granted the first three ICO portal licenses to Longroot (Thailand) Co., Ltd., T-Box (Thailand) Co., Ltd. and SE Digital Co., Ltd. but none of them has yet started operation.  Thus, as of July 2019, none ICO has been approved by the SEC Office.
4.   Libra Coin and DA Law  

On 18th June 2019, Facebook and its 28 partners announced that they would launch a global stable coin called Libra Coin in 2020 to be backed by a reserve of assets and pegged to government-issued fiat currencies such as USD, EUR and SGD to ensure its price predictability and low volatility.  The Libra Coin will be different from Bitcoin or other cryptocurrencies because it is not 100% decentralized.
The Libra Coin may fall within the definition of crytocurrency under the DA Law.  The DA Law defines the "Cryptocurrency" as "an electronic data unit created on an electronic system or network for the purposes of being a medium of exchange for the acquisition of goods, services or other rights, or for exchange between digital assets, including other electronic data units determined by the SEC".
The Libra Coin will not be a currency under the Currency Act B.E. 2501 (1958) as amended because the Currency Act defines the "Currency" as bank notes and coins denominated in "Baht" or "THB" used as a medium of payment or a legal tender.
5.   Potential Future Developments
Once the three licensed ICO portals start their operation, it is likely that a number of the ICO applications will be filed with the SEC.
The MOF may grant more licenses for digital asset exchanges, dealers and brokers in 2020 as the Thailand crypto market may become active starting in the first half of 2020.
More rules and regulations may be issued by the MOF and the SEC to better regulate the digital business market and better protect investors and the public.
The Stock Exchange of Thailand has announced a plan to launch a digital asset exchange platform in 2020 as a prototype of reliable digital asset exchanges.

AUTHOR
Managing Partner

| bangkok

| | |
| --- | --- |
| | - |
---
The information provided in this document is general in nature and may not apply to any specific situation. Specific advice should be sought before taking any action based on the information provided. Under no circumstances shall LawPlus Ltd. and LawPlus Myanmar Ltd. or any of their directors, partners and lawyers be liable for any direct or indirect, incidental or consequential loss or damage that results from the use of or the reliance upon the information contained in this document. Copyright © 2016 to 2020 LawPlus Ltd.