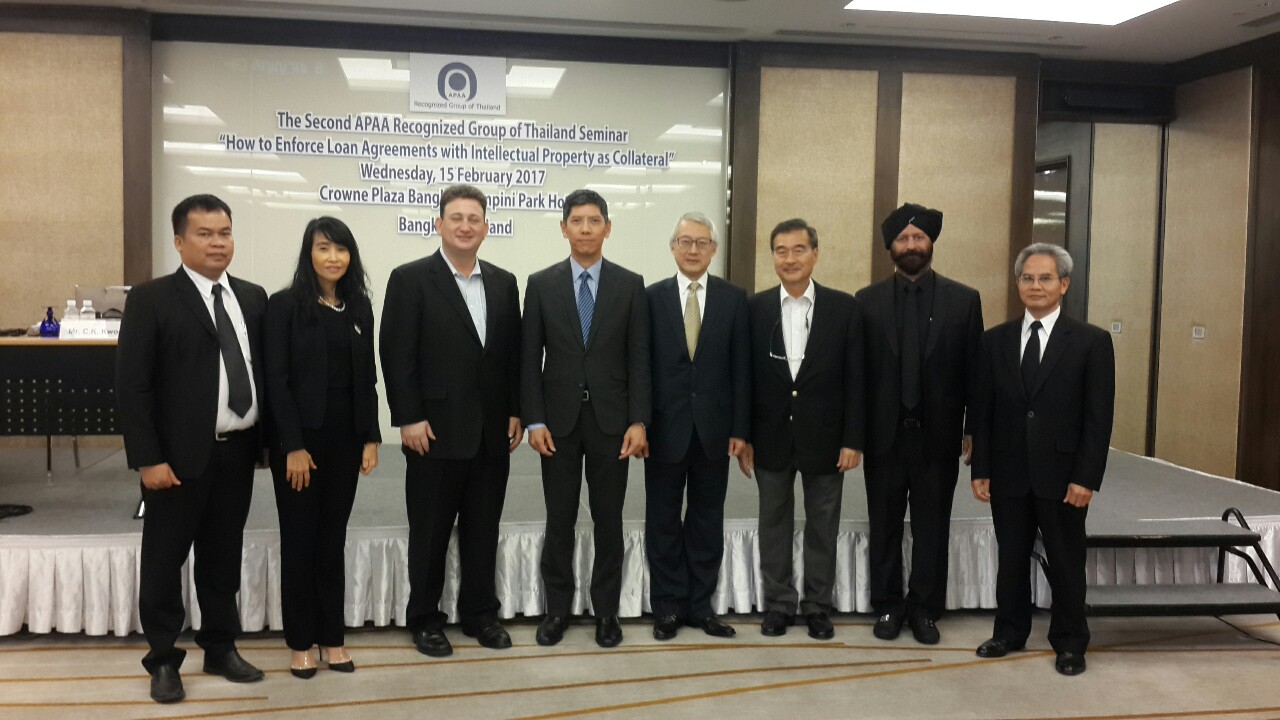 On 15th February 2017, the APAA Recognized Group of Thailand (the "APAA RGT") held a seminar on "How to Enforce Loan Agreements with Intellectual Property as Collateral" at Crowne Plaza Bangkok Lumpini Park Hotel.
The seminar began with an opening remark by Mr. Rutorn Nopakun, the President of the APAA RGT, focussing on the asset capitalization policy and the enactment of the Business Collateral Act B.E. 2558 (the "BCA") of Thailand.  Ms. Darani Vachanavuttivong, Vice President of the APAA RGT, moderated the seminar.  Around 50 members of the APAA RGT including its former President, Mr. Chavalit Uttasart, and its Council Member, Mr. Satyapon Sachadecha, attended the seminar.
Mr. C.K. Kwong, Justice of the Peace and the Senior Partner of Sit Fung Kwong & Shum Solicitors of Hong Kong, gave a presentation on enforcement of IP securities.  He pinpointed that it is relatively uncommon for banks in Asia to accept IPs as collaterals due to lack of knowledge on IP collateral and its enforceability problems.  He presented that mechanisms have been introduced in Hong Kong to facilitate and promote IP collaterals, namely, a mortgage by way of assignment, an equitable mortgage, a fixed charge and a floating charge.  Each mechanism has its own characteristics, formalities, pros and cons and priorities in terms of enforcement in and outside liquidation.  Mr. Kwong ended his speech with practical samples of IP collateral enforcement in Hong Kong and other countries.
Mr. Howard Wisnia, Partner of Mintz, Levin, Cohn, Ferris, Glovsky and Popeo, P.C. of San Diego, USA, presented IP collateral enforcement in the USA.  He began with how collateralization of IPs and securitization of royalty fees are made in the USA for financings from financial institutions and non-bank investors, particularly from pharmaceutical companies as investors in pharmaceutical startups.  Mr. Wisnia emphasised the importance of (i) conducting due diligence of the IP collaterals to determine their values and encumbrances as a pre-loan requirement, (ii) properly documenting the transaction to obtain a clean title in the IP in case of default and enforcement, and (iii) recording collateral fast to get priority in case of enforcement.
The final speaker was Mr. Prai Pralardnetr, Legal Officer of the Secured Transactions Registry Division, the Department of Business Development of Thailand.  He presented the provisions of the BCA and the ministerial regulation as applicable to registration and enforcement of IP and other collaterals.  He showed lists of the parties and properties involved with registration of collaterals, the online registration system and the enforcement procedures under the BCA.
After a Q & A session, Mr. Kowit Somwaiya, the Managing Partner of LawPlus Ltd. and a member of the APAA RGT, made a closing remark by thanking the speakers for sharing their knowledge and expertise with the audience.  He concluded that Thailand is implementing its 20-year "Thailand 4.0" reform plan based on knowledge and innovation where SMEs and start-ups would be encouraged and supported to create and trade in goods and services of added values.  He predicted that IP collaterals would increase and that IP practitioners would need to keep on educating themselves and other parties concerned on creation and enforcement of IP collaterals.
Reported by Oramart Aurore Saardphak, Associate
LawPlus Ltd.
20th February 2017
AUTHOR
Associate

| bangkok
---
The information provided in this article is general in nature and may not apply to any specific situation. Specific advice should be sought before taking any action based on the information provided. Under no circumstances shall LawPlus Ltd. or any of its directors, partners and lawyers be liable for any direct or indirect, incidental or consequential loss or damage that results from the use of or the reliance upon the information contained in this article. Copyright © 2016 LawPlus Ltd.