On 10th January 2017, the Internal Revenue Department ("IRD") of the Ministry of Planning and Finance ("MPF") announced the Notification No. 2/2017 to reduce the withholding tax rates for payments in Myanmar and abroad and replace the Notification No. 41/2010 and the Notification No. 167/2011 of the IRD.  The new WHT rates will become effective from 1st April 2017.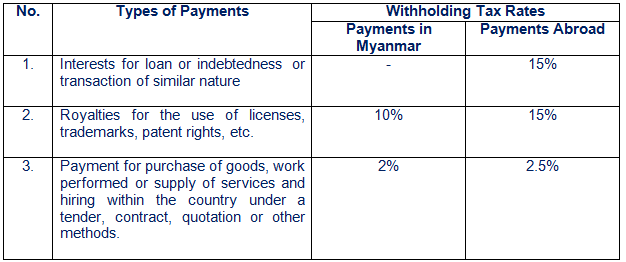 The WHT will be deducted in Myanmar Kyat for payments made in Myanmar and in foreign currency for payment made abroad. It is required to report the WHT within 7 days from the payment date. Agreement for Avoidance of Double Taxation and Prevention of Fiscal Evasion will apply on a case-by-case basis.
AUTHOR
| | |
| --- | --- |
| | |

| | |
| --- | --- |
| | - |
LawPlus Ltd.
Unit 1401, 14th Floor, Abdulrahim Place 990 Rama IV Road, Bangkok 10500, Thailand
Tel: +662 636 0662
Fax: +662 636 0663
LawPlus Myanmar Ltd.
Room 517 Yangon International Hotel No. 330 Corner of Ahlone and Pyay Roads Dagon Township, Yangon, Myanmar
Tel: +95 (0)92 6111 7006
and +95 (0)92 6098 9752

---
The information provided in this article is general in nature and may not apply to any specific situation. Specific advice should be sought before taking any action based on the information provided. Under no circumstances shall LawPlus Ltd. or any of its directors, partners and lawyers be liable for any direct or indirect, incidental or consequential loss or damage that results from the use of or the reliance upon the information contained in this article. Copyright © 2016 LawPlus Ltd.