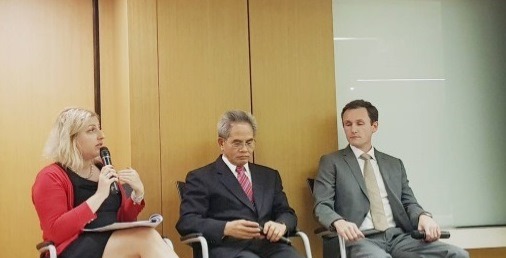 On Monday 20 August 2018, the International Trademark Association (INTA) and the Intellectual Property Association of Thailand (IPAT) co-organized a half-day policy dialogue on border measures-challengers and successes and best practices in combatting online counterfeiting in Bangkok, Thailand.  Speakers and participants were government officials from the Thailand Department of Intellectual Property, the Royal Thai Customs Department, the US Department of Homeland Security and delegates and members of INTA and IPAT.  Around 40 participants attended the event.
Kowit Somwaiya, Managing Partner and Founder of LawPlus Ltd., gave a presentation on the "Best Practices in Combatting Online Counterfeiting" as a member of the INTA Board of Directors and the Vice President of IPAT.  He pointed out that the volume and values of counterfeiting activities are growing globally.   He said that counterfeiting is a crime harmful to the local and global economies, the public health, the legitimate businesses and causes the losses of jobs and government revenues.  He emphasized that a big factor in the growth of online counterfeiting is the expansion of the Internet and emergence of information and digital technologies which create new challenges to all parties involved in combatting online counterfeiting.
Importantly, he pointed out that there are many players that play important roles in the online world of trade and the fight against the online counterfeiting.  He presented to the audience the "2017 Best Practice Guides on Addressing the Sale of Counterfeits on the Internet" of INTA.  The guides presents and recommends measures for trademark owners and other stakeholders (search engines, trading platforms, payment service providers, social media sites, domain name registrars and registries and logistic companies) involved in the online marketing, sales and distribution of goods online to collaborate actively and efficiently in addressing the problems caused by counterfeit goods advertised and sold over the Internet.

AUTHOR
| | |
| --- | --- |
| | - |
---
The information provided in this document is general in nature and may not apply to any specific situation. Specific advice should be sought before taking any action based on the information provided. Under no circumstances shall LawPlus Ltd. and LawPlus Myanmar Ltd. or any of their directors, partners and lawyers be liable for any direct or indirect, incidental or consequential loss or damage that results from the use of or the reliance upon the information contained in this document. Copyright © 2016 to 2019 LawPlus Ltd.