On 26th July 2018, the Ministry of Commerce ("MOC") issued the Newsletter No. 2/2018 on the Standard Operation Procedure ("SOP") for 100% foreign owned companies ("FOC"), joint venture companies between Myanmar nationals and foreigners ("JVC") and Myanmar local companies ("MLC") to set out the framework for obtaining a license for wholesale business ("WSL") and/or a license for retail sale business ("RSL") (collectively referred to "Licenses") from the MOC as allowed under the Notification No. 25/2018 dated 9th May 2018 ("Notification").
1.   Licenses
There are four categories of companies that can obtain the WSL and/or the RSL:-
(1)   Category A: The new FOC or JVC to be established in Myanmar.
(2)   Category B: The existing FOC or JVC that have been established in Myanmar.
(3)   Category C: The existing registered FOC and JVC that have been permitted to do the wholesale business and the retail sale business with MIC endorsement, MIC permit or other relevant permission.
(4)   Category D: The existing MLC that have been operating the wholesale and the retail sale business with the capital of more than USD700,000.
Mobile sale, door to door distribution or other services such as restaurant, coffee and tea shop and liquor bar are not required to obtain the Licenses.
2.   Capital Transfer
The requirements on capital transfer of each company category are as follows:-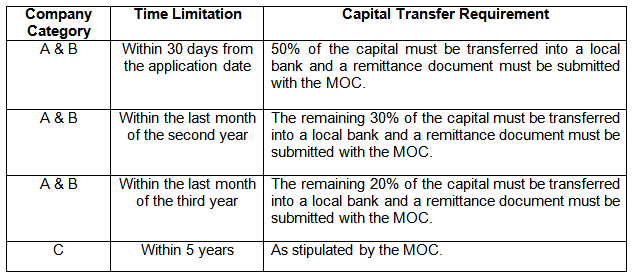 There is no capital transfer requirement for companies in Category D.
3.   Space Requirements
3.1   The ground floor space for the retail sale business or the shopping mall must be at least 929 square meter including a small office and storage. But this will not apply for the companies in Category D.
3.2   The outlet space must be sufficient for the wholesale business. In case of direct wholesale from the storage, the storage must be located at a suitable place.
4.   Term and Renewal of License
The term of the License is 5 years from the commencement date.
An application for renewal of the License must be submitted with the MOC within 2 months before the expiry date.
5.   Official Fees
The official fee for obtaining the License is MMK50,000 per License.  The official fee for renewal of the License is also MMK50,000 per License.

AUTHOR
| | |
| --- | --- |
| | |
---
The information provided in this document is general in nature and may not apply to any specific situation. Specific advice should be sought before taking any action based on the information provided. Under no circumstances shall LawPlus Ltd. and LawPlus Myanmar Ltd. or any of their directors, partners and lawyers be liable for any direct or indirect, incidental or consequential loss or damage that results from the use of or the reliance upon the information contained in this document. Copyright © 2016 to 2019 LawPlus Ltd.