Kowit Somwaiya Presents Thailand's Report to the Anti-Counterfeiting Committee of the Asian Patent Attorneys Association in New Delhi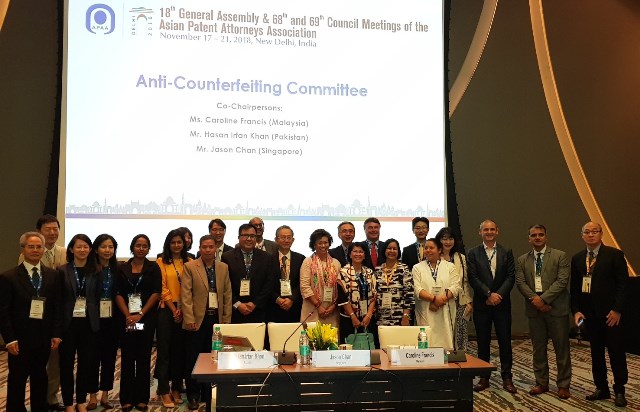 The 18th General Assembly and 68th & 69th Council Meetings ("Meeting") of the Asian Patent Attorneys Association ("APAA") were held during 17th to 21st November 2018 in New Delhi, India.
Kowit Somwaiya, Managing Partner and Founder of LawPlus Ltd., has served as one of the two representatives from the APAA Recognized Group of Thailand in the Anti-Counterfeiting Committee of APAA of which the meeting of the Committee members was held on 19th November 2018 during the APAA Meeting.  He presented to the Committee the special topic report of Thailand for the issue of preservation and disposition of seized counterfeit goods.
In his report, he said that under the current practice of Thailand and per the policy of the government and relevant government authorities, if the seized goods are confirmed to be counterfeit in nature, they will be ordered to be destroyed rather than being disposed of by other means.
He also reported that the Thai authorities regularly organize destruction ceremonies to destroy counterfeit and pirated goods.  This is to make sure all such goods are removed from all channels of commerce and will never re-enter the market and to demonstrate effectiveness of law enforcement efforts against counterfeiting and piracy.
His report received much attention from other members in the Committee as Thailand used to be one of the countries in ASEAN which were known for insufficient and ineffective enforcement against counterfeiting activities but the situation in Thailand has been getting better in these recent years and Thailand has just been removed from the Priority Watch List (PWL) to the lower Watch List (WL) category for its intellectual property protection by the US Trade Representative ("USTR") last year.
For the full report, please click here.

AUTHOR
Associate

| bangkok
---
The information provided in this article is general in nature and may not apply to any specific situation. Specific advice should be sought before taking any action based on the information provided. Under no circumstances shall LawPlus Ltd. and LawPlus Myanmar Ltd. or any of their directors, partners and lawyers be liable for any direct or indirect, incidental or consequential loss or damage that results from the use of or the reliance upon the information contained in this article. Copyright © 2016 and 2018 LawPlus Ltd.