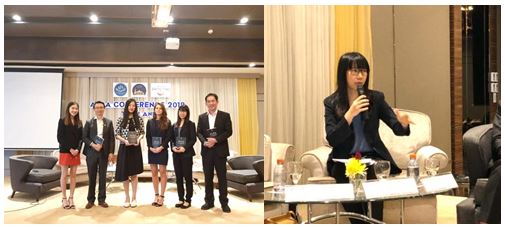 During January 24th to 29th 2019, the Asian Law Students' Association ("ALSA") hosted the ALSA Conference in Thailand, one of the biggest events in ALSA International with participants from over 10 countries. The theme of the event this year is on privacy right, which has been in concern of most of the countries around the world after the recent General Data Protection Regulations ("GDPR") of EU came into force.
ALSA is a student-run, non-profit and non-political association comprising members from around 16 countries, i.e. Brunei, China, Hong Kong, Indonesia, Japan, Korea, Laos, Macau, Malaysia, the Philippines, Singapore, Sri Lanka, Taiwan, Thailand, Vietnam and Myanmar.
On the second day of the event, Paramee Kerativitayanan, Associate of LawPlus Ltd., joined the Privacy Rights Symposium in the morning session as one of the five panelists.  She discussed about the impact of GDPR on global and local businesses from the perspective of a legal practitioner.  She also gave information on what a business should implement to be in compliance with the GDPR and also for the local business to be prepared for the data privacy law of Thailand, which can be expected to come into force quite soon.  Furthermore, the issue on enforcement of GDPR outside EU was also raised by the moderator and asked by the audience.  Some recent disputes between U.K. Information Commissioner's Office (ICO) and AggregateIQ, a Canadian company, and the claim against Google by the French data regulator CNIL were discussed.  The symposium was quite fruitful.  There were around 270 attendees.

AUTHOR
| | |
| --- | --- |
| | - |
---
The information provided in this document is general in nature and may not apply to any specific situation. Specific advice should be sought before taking any action based on the information provided. Under no circumstances shall LawPlus Ltd. and LawPlus Myanmar Ltd. or any of their directors, partners and lawyers be liable for any direct or indirect, incidental or consequential loss or damage that results from the use of or the reliance upon the information contained in this document. Copyright © 2016 to 2019 LawPlus Ltd.