TUESDAY, 26th SEPTEMBER 2017
CROWNE PLAZA BANGKOK LUMPINI PARK HOTEL
If you are taking your business overseas but not sure how to best legally protect your brands abroad from being copied or claimed or if you want to hear about the trademark registration in CLMV, the EU trademark registration or the international trademark system, then you should attend this seminar to hear from a panel of experienced IP lawyers.
Today's global economy provides a world of opportunity for smart businesses – both large and small – selling goods and services beyond their national borders. Operating in international markets means competing on the world stage. In a competitive market, a strong brand can help you to build consumer loyalty and benefit from premium prices.  Although you may not have exported your goods or services overseas, there is high possibility that your goods and services will be available beyond national border as goods and services flow across boarder increasingly fast.  Thus, protection your brands overseas is very important to your business.
Featured Topics
How to Protect Your Trademark in Cambodia-Laos-Myanmar-Vietnam (CLMV) and as EU Trademark Registration with European Union Intellectual Property Office (EUIPO)

How to Protect Your Trademark Internationally as International Trademark Registration under the Madrid System with World Intellectual Property Office (WIPO)

Thailand's Accession to Madrid Protocol and Its Implications to Thai Brands

Challenges and Tips for Protecting Your Trademark Abroad in a Cost-Effective Manner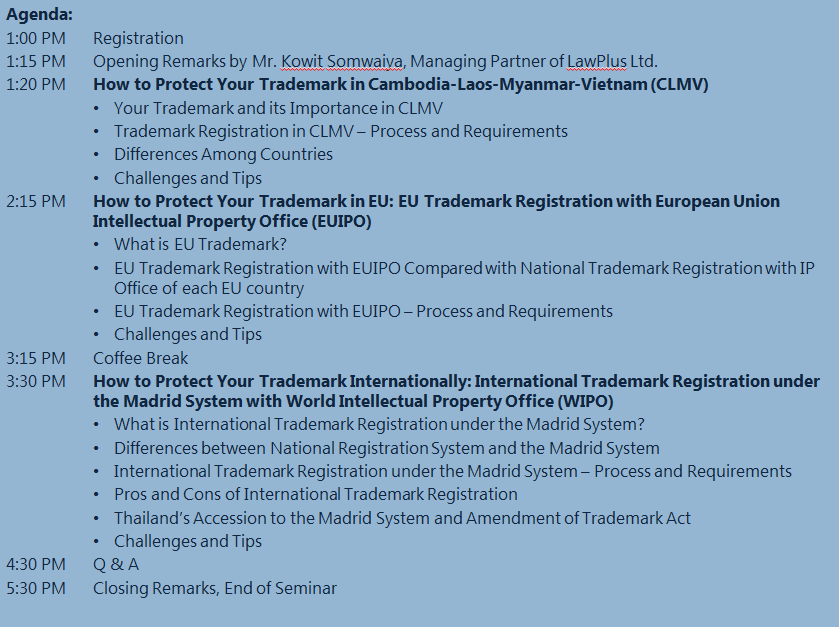 Cost: THB1,200 plus THB84 for the VAT (THB1,284 in total)
Registration: Please complete and return the form to us by 22nd September 2017
The Seminar will be presented in Thai.  Materials will be made in English
Click here for the full program
---
The information provided in this document is general in nature and may not apply to any specific situation. Specific advice should be sought before taking any action based on the information provided. Under no circumstances shall LawPlus Ltd. and LawPlus Myanmar Ltd. or any of their directors, partners and lawyers be liable for any direct or indirect, incidental or consequential loss or damage that results from the use of or the reliance upon the information contained in this document. Copyright © 2016 to 2020 LawPlus Ltd.