On 20th September 2017, Mr. Kowit Somwaiya, Managing Partner of LawPlus Ltd. and Chair of the Harmonization of Trademark Law and Practice Committee of the International Trademark Association ("INTA") attended the ASEAN-USPTO Colloquium for the Judiciary on Civil and Criminal IP Appellate Cases at Grand Hyatt Erawan Hotel, Bangkok.  The event was organized by the USPTO from 20th to 22nd September 2017 consisting of speeches, remarks, presentations and panel discussions on the role of courts in adjudicating and enforcing IPR, the challenges for consumers and rightholders in the global and online environment, the IPR issues and legal trends, the transparency in proceedings and decision-making, the civil litigation and appeals in IP dispute, the criminal prosecutions and appeals in IP cases.  Around 40 attendees attended the events.  They were mainly IP specialized judges from ASEAN countries.  Speakers and panelists were judges, law professors, representatives of rightholders and mediators.  Mr. Peter Fowler the Senior Counsel of the USPTO, Hon. Judge Bernice B. Donald of the US Court of Appeals for the Sixth Circuit and Hon. Judge Kent A. Jordan of the US Court of Appeals for the Third Circuit also attended and lead discussions.
The session participated by Mr. Somwaiya was the "Challenges for Consumers and Rightholders in the Global and Online Environment".  He spoke for INTA by introducing INTA to the attendees (history, mission, objectives, members, committees, plans and policies, activities).  In relation to the challenges for consumers and rightholders in the global and online environment, he pointed out the facts that the scale of physical and online counterfeitings and their huge negative impacts on brand owners, consumers and economies.  He also emphasized that there were a large number of players and stakeholders in efforts against counterfeiting and that a more harmonized approach and international cooperation mechanisms would help increase success and efficiency of anti-counterfeiting activities.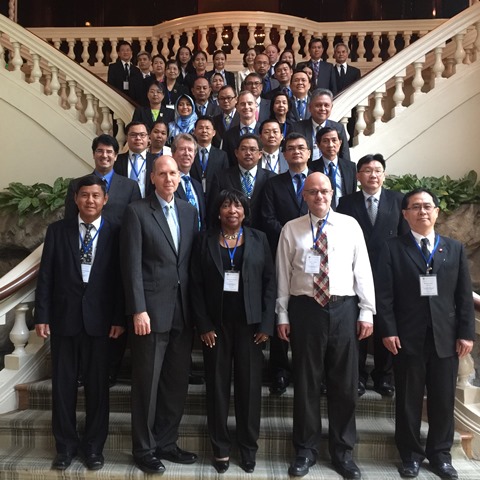 AUTHOR
Senior Partner

| bangkok
---
The information provided in this document is general in nature and may not apply to any specific situation. Specific advice should be sought before taking any action based on the information provided. Under no circumstances shall LawPlus Ltd. and LawPlus Myanmar Ltd. or any of their directors, partners and lawyers be liable for any direct or indirect, incidental or consequential loss or damage that results from the use of or the reliance upon the information contained in this document. Copyright © 2016 to 2020 LawPlus Ltd.