On 23rd November 2017, the Board of Investment of Thailand ("BOI") approved new investment packages to give additional tax incentives on top of the standard tax incentives for investment projects located in the Eastern Economic Corridor ("EEC") area. The area covers Chonburi, Rayong and Chacheongsao provinces east of Bangkok. The BOI will soon issue notifications to implement the packages. There will be 3 packages that give additional incentives in 3 investment zones from 1st January 2018 to 30th December 2020.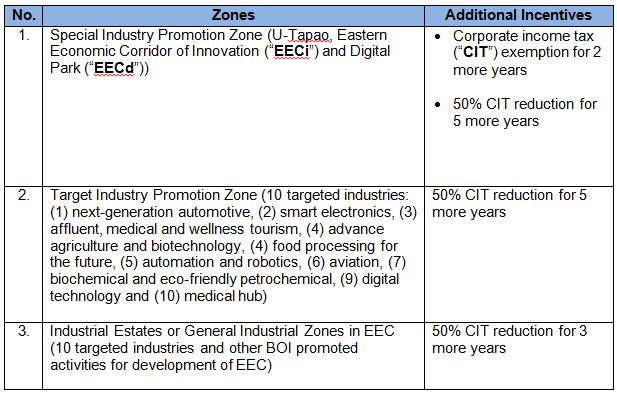 Applications for the additional investment packages must be filed with the BOI during the period of 1st January 2018 to 30th December 2019.
AUTHOR
Managing Partner

| bangkok

Partner

| bangkok
---
The information provided in this article is general in nature and may not apply to any specific situation. Specific advice should be sought before taking any action based on the information provided. Under no circumstances shall LawPlus Ltd. and LawPlus Myanmar Ltd. or any of their directors, partners and lawyers be liable for any direct or indirect, incidental or consequential loss or damage that results from the use of or the reliance upon the information contained in this article. Copyright © 2016 and 2018 LawPlus Ltd.