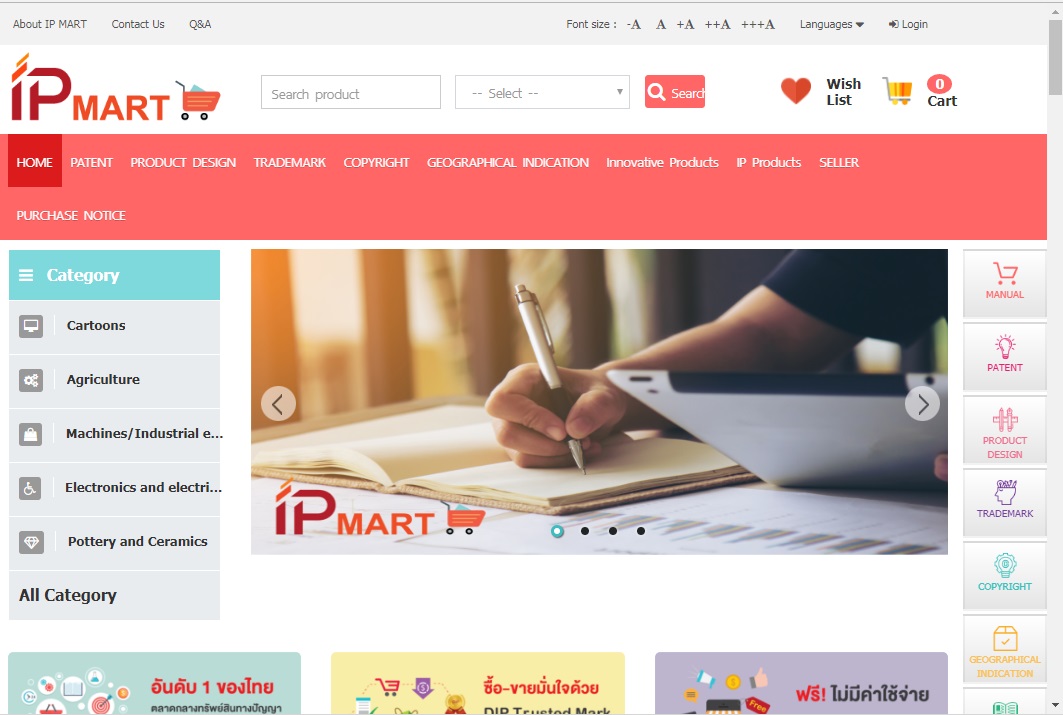 On 11th January 2018, the Department of Intellectual Property of Thailand ("DIP") launched a new website www.thaiipmart.com which is the official intellectual property market website ("IP Mart"). It is the very first intellectual property online marketplace in Thailand, aiming to promote the commercial use of existing intellectual property rights such as copyrights, invention patents, design patents, trademarks and geographical indications (GIs).
Deputy Minister of Commerce, Chutima Bunyapraphasara, said in the opening ceremony of the website that the IP Mart at www.thaiipmart.com will function as the central website for innovative Thai intellectual property products.
The IP Mart website is available in both Thai and English languages. Initially, the IP Mart has approximately 600 items which are ready to be purchased. The Ministry of Commerce expected transactions made through the IP Mart to reach around 5 million baht during its first year and also expected the creative products available on the website to reach at least 1,000 items by this year.
Among 600 items available in the IP Mart website, around 190 items are innovative products and around 182 items are inventions under patent and petty patent protection. There are also 67 geographical indication products and 31 patented designs.
AUTHOR
Managing Partner

| bangkok

Associate

| bangkok
---
The information provided in this article is general in nature and may not apply to any specific situation. Specific advice should be sought before taking any action based on the information provided. Under no circumstances shall LawPlus Ltd. and LawPlus Myanmar Ltd. or any of their directors, partners and lawyers be liable for any direct or indirect, incidental or consequential loss or damage that results from the use of or the reliance upon the information contained in this article. Copyright © 2016 and 2018 LawPlus Ltd.