The Ministry of Commerce has enacted its Ministerial Regulation on Official Fee Rates, Reduction and Exemption of Official Fees Related to Partnerships and Companies B.E. 2561 dated 18th April 2018 to change the official fees at progressive rates to flat rates and reduce fee rates for e-Registration and registration for partnerships and companies located in the Special Development Zone ("SDZ") covering Narathiwas, Patthani, Yala, Satun and 4 districts of Songkhla in the South of Thailand effective from 21st April 2018.  The new rates are summarized in the table below.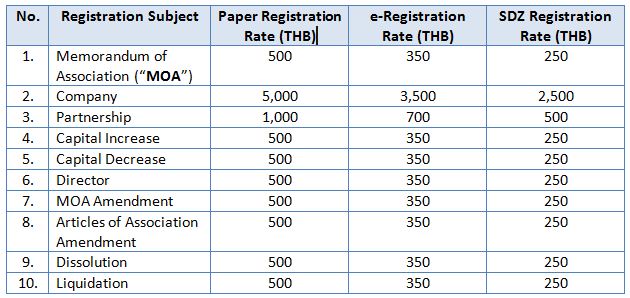 The reduced fee rates for e-Registration and SDZ registration are valid until 31st December 2020.
AUTHOR
Managing Partner

| bangkok

Partner

| bangkok
---
The information provided in this article is general in nature and may not apply to any specific situation. Specific advice should be sought before taking any action based on the information provided. Under no circumstances shall LawPlus Ltd. and LawPlus Myanmar Ltd. or any of their directors, partners and lawyers be liable for any direct or indirect, incidental or consequential loss or damage that results from the use of or the reliance upon the information contained in this article. Copyright © 2016 and 2018 LawPlus Ltd.