On 28th October 2019, the Board of Investment of Thailand ("BOI") issued:-
(1)   the Notification No. 4/2019 re: Measures to Accelerate Investment;
(2)   the Notification No. 5/2019 re: Measures to Support Training; and
(3)   the Notification No. 6/2019 re: Measures to Support Establishment of Institutions for Development of High Skilled Workforce by Private Sectors.
Subject to the terms and conditions prescribed in the new BOI notifications mentioned above, the additional incentives available to investment projects effective from 20th September 2019 are summarized in the table below.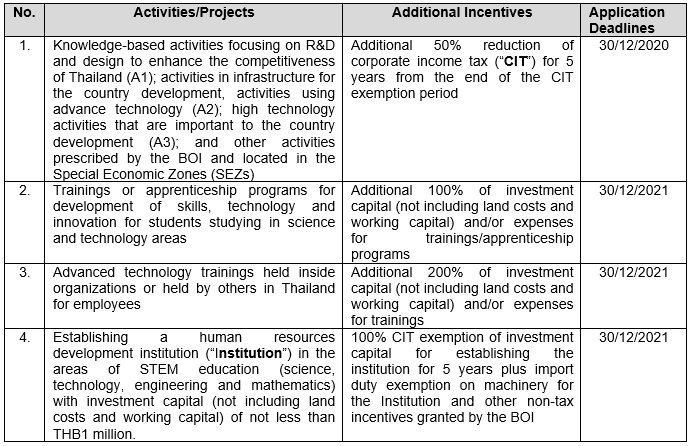 AUTHOR
Managing Partner

| bangkok

Partner

| bangkok
---
The information provided in this document is general in nature and may not apply to any specific situation. Specific advice should be sought before taking any action based on the information provided. Under no circumstances shall LawPlus Ltd. and LawPlus Myanmar Ltd. or any of their directors, partners and lawyers be liable for any direct or indirect, incidental or consequential loss or damage that results from the use of or the reliance upon the information contained in this document. Copyright © 2016 to 2020 LawPlus Ltd.