It has been almost three years since the Emergency Decree on Digital Asset Business Operation B.E. 2561 of Thailand ("DA Law") came into force on 14th May 2018.  Since then several implementation rules have been issued by the Ministry of Finance ("MOF"), the Securities and Exchange Commission Thailand ("SEC") and the SEC Office.  This article gives an overview of the implementation and practice of the DA Law from May 2018 to February 2021.
1.   Allowed Cryptocurrencies
On 11th September 2018, the SEC Office announced a list of 7 cryptocurrencies that have been allowed for ICO investments and transactions and base trading pairs.  They are Bitcoin, Bitcoin Cash, Ethereum, Ethereum Classic, Litecoin, Ripple and Stellar.  However, the SEC did not recognize or certify that they are a legal tender.  Also six months later, the SEC removed Bitcoin Cash, Ethereum Classic and Litecoin from the list.
2.   Digital Asset Business Licenses
As of 15th February 2021, the MOF has issued 14 licenses to 11 operators as follows:-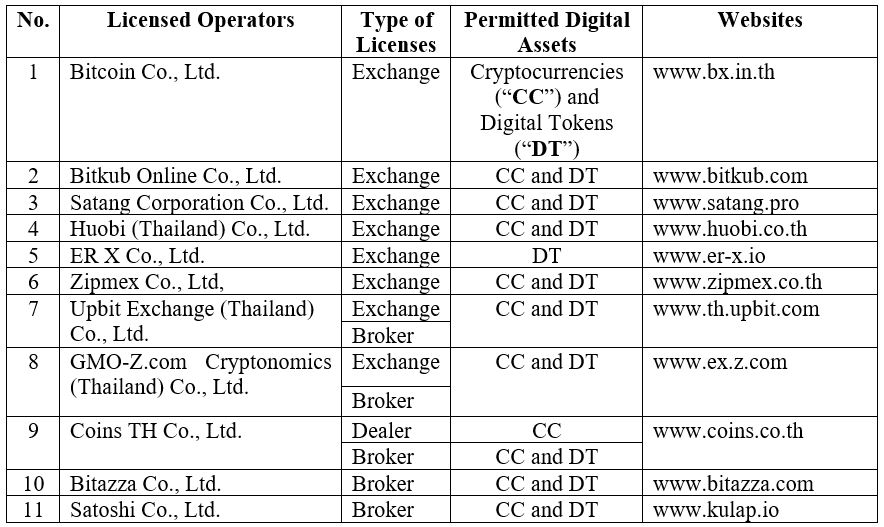 The MOF rejected some applications for digital asset business licenses because their major operating systems, such as asset custody system, KYC system, IT security and cyber security system, failed to meet the SEC and the Anti-Money Laundering Office ("AMLO") requirements.
3.   Initial Coin Offering ("ICO") and ICO Portals
A large number of companies have expressed interest in launching their ICO projects to raise funds under the DA Law.  However, none of the ICO projects has been launched.
Launching an ICO needs an ICO portal to conduct a due diligence on the project, review and verify the whitepaper and the smart contract source codes and to do several other things.  An ICO can be offered only through the platform of an ICO portal licensed by the SEC.
As of 15th February 2021, the SEC has granted ICO portal licenses to 4 companies.  They are Longroot (Thailand) Co., Ltd., T-Box (Thailand) Co., Ltd., SE Digital Co., Ltd., and BiTherb Co., Ltd.
4.   Fund Manager and Advisor
On 19th October 2020, the MOF issued its Notification on Other Additional Digital Asset Related Businesses B.E. 2563, effective from 27th November 2020, to add the "Digital Asset Fund Manager" and the "Digital Asset Advisor" as two new types of digital asset business operators. They are required to obtain specific licenses from the MOF to operate their business in relation to digital tokens and cryptocurrencies.
5.   Advisory Unit
Starting from 1st January 2021, each digital asset business operator is required to establish an advisory unit within its organization to supervise its compliance with the DL Law and related regulations.  This is the requirement under the SEC Notification Nor. GorTor. 36/2563 re: Establishment of Advisory Unit of Digital Asset Business Operators dated 2nd December 2020.
The duties and responsibilities of the advisory unit include giving advice, monitoring internal compliance, updating the operator on new laws and regulations, preparing an annual compliance plan and an annual compliance report.  The unit must work independently from the management of the operator and report directly to the board of directors of the operator.  The chief of the advisory unit must have the qualifications and must not have the prohibited characteristics prescribed by the SEC.
LawPlus Ltd.
February 2021

For Chinese Version please click here.
Too see the archive of our past newsletters and articles please click here.
AUTHOR
Managing Partner

| bangkok

Partner

| bangkok

Asssociate

| bangkok

Client Coordinator

| bangkok
---
The information provided in this document is general in nature and may not apply to any specific situation. Specific advice should be sought before taking any action based on the information provided. Under no circumstances shall LawPlus Ltd. and LawPlus Myanmar Ltd. or any of their directors, partners and lawyers be liable for any direct or indirect, incidental or consequential loss or damage that results from the use of or the reliance upon the information contained in this document. Copyright © 2016 to 2020 LawPlus Ltd.