Due to the on-going COVID-19 pandemic, on 23rd June 2021, the Thailand Government enacted a Royal Decree to reduce the rates of the contributions which the self-insured persons must pay to the Social Security Fund under the Social Security Act B.E. 2533 each month for a period of 6 months from 1st August 2021 to 31st January 2022.
The reduced contribution rates and the rates after the 6-month period are summarized as follows: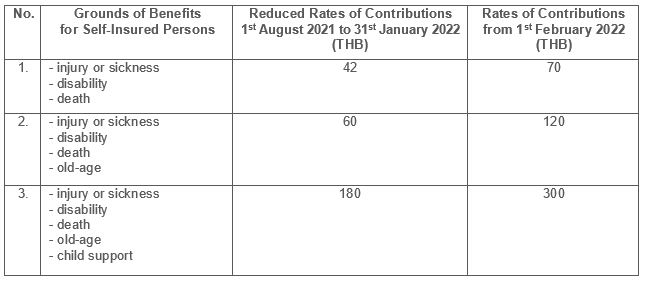 Too see the archive of our past newsletters and articles pleas click here.
AUTHOR
Managing Partner

| bangkok

Associate

| bangkok
---
The information provided in this document is general in nature and may not apply to any specific situation. Specific advice should be sought before taking any action based on the information provided. Under no circumstances shall LawPlus Ltd. and LawPlus Myanmar Ltd. or any of their directors, partners and lawyers be liable for any direct or indirect, incidental or consequential loss or damage that results from the use of or the reliance upon the information contained in this document. Copyright © 2016 to 2020 LawPlus Ltd.